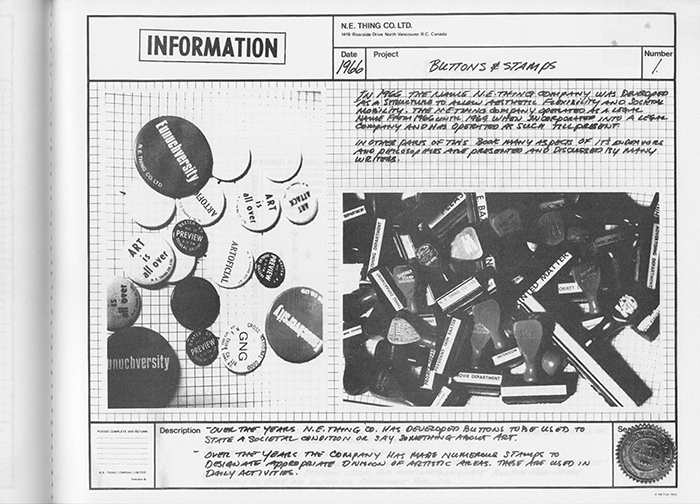 N.E. Thing Co.
Companies Act (2020)

Brick Press
2020, English
Softcover, 362 pages
21.3 x 27.5 cm
ISBN: 9780994838605
Edition of 500

$50.00 CDN Add to Cart

"The N.E. Thing Company has developed itself as a factory of ideas, which is far too preoccupied with the production and realization of new ideas to pay much attention to the archival end." – Jean-Christophe Ammann (Kunsthalle Basel)

Described as a "compendium of company ideas," Companies Act is perhaps the most important art book by the foundational Canadian conceptual art duo. Companies Act contains 362 collage-like pages comprised of their most critical works, including hand-written descriptions providing great insight into the process and intent of the N.E. Thing Company.

Companies Act was an artwork created for N.E. Thing Co.'s contribution to Kunsthalle Basel's 1978 "Younger Canadian Artists" exhibition. Kunsthalle curator, Jean-Christophe Ammann knew that N.E. Thing Co. would represent Canada; the question was how. With an oeuvre such as theirs, one artwork would not suffice, and he felt that a "telephone book" worth of work would be the best and only way to represent the ideas, projects and works of the N.E. Thing Co.

N.E. Thing Co. was a North Vancouver based collaborative duo run by co-presidents, Ingrid and Iain Baxter. The "company" utilized an abstracted business model to interrogate art, domestic systems, corporate strategy, and everyday life using photography, information technology and installation-based artworks.

Due to a small first edition in 1978, existing copies are extremely scarce. Companies Act is now available for the first time in over 40 years in a limited edition of 500.

For Canadian wholesale/bookseller rates and institutional inquires please contact info@brickpress.ca. For wholesale inquires outside of Canada, please contact D.A.P. / Artbook.com.

For free local pickup or delivery: Please contact info@brickpress.ca for direct order information.